---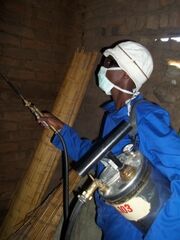 IRS UPDATE JAN 2018:
There have now been 3 sprayings spaced approximately every 6 months as part of the Rotary Club grant we helped facilitate. As a result 23,000 people are now being protected from malaria; disease rates have decreased by 85% in the 18 protected villages as a consequence. In addition, in the summer of 2017, BTM began protecting an additional 3500 households (approximately 20,000 people) not covered by the Rotary grant. In November of 2017, we began to protect yet one more village against malaria by IRS.
IRS UPDATE AUGUST 2016:
We obtained the International Rotary Club Grant and will have sufficient funding (almost $60,000!) to protect about 20,000 people in approximately 8 villages in the Mtunthama area. IRS at this level should begin in late August or early September.
IRS UPDATE JUNE 2015:
In conjunction with the Nashoba Valley Rotary Club and the Rotary Club of Lilongwe, we are applying for a Rotary International Matching Grant which will hopefully make it possible for us to spray in 5 different villages with enough money to protect the 7800 inhabitants for two years. More about this as the process evolves!
IRS UPDATE MARCH 2015:
In late January of 2015 we expanded our IRS operations to include two new villages (Mphepo, population 1489, and Chinemba, population 1088) in addition to Makanda. This increased the total number of households protected to 902 and the total number of villagers to 4373. (See letter from Peter Minjale below). The next spraying will be in these same villages in August of 2015. We will be switching from a powdered version of the insecticide to a liquid version, which is reportedly more effective. Unfortunately, it is also more expensive. This means our costs will increase from approximately $2.66 per person to $5.44 per person. Thanks to all who have helped us accomplish this!
When we visited Makanda during the medical trip this year, the chief thanked us and said, "There are no mosquitoes in our village! Our pregnant women and little children [those most vulnerable to malaria] are not getting sick and dying from this disease. Also, the rest of us feel so much better that we can put many more hours into our work in the fields and this has meant more income for every household."
INDOOR RESIDUAL SPRAYING (IRS) EXERCISE IN MAKANDA VILLAGE, KASUNGU, MALAWI
On behalf of Makanda village community and chiefs, Kasungu DHO, my fellow K2 TASO board members in Malawi let me take this opportunity to send our words of gratitude to Bridges to Malawi for your support towards IRS which K2 TASO is doing. As the IRS exercise continues I am pleased to send you the following photographic report.
As we continue the IRS exercise the Makanda chiefs, villagers, Kasungu DHO and K2 TASO board members wish to express words of gratitude to Bridges to Malawi for your timely support. Statistics of malaria prevalence before and after the IRS exercise in Makanda area will follow soon.
Letters from Peter Edwin Minjale (K2 TASO Director)
Letters from Peter Jan and Feb 2015
Malaria Prevalence in Makanda Jan-June 2014
SUBMISSION OF INDOOR RESIDUAL SPRAYING, 12/23/2014