About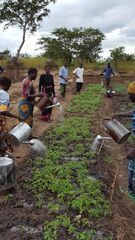 In order to help improve local nutrition and prevent future famines, we have developed a program called "Land Lease," which pays the poorest farmers where we work to grow the high-nutrition drought-resistant crops we choose on at least a half acre of their land rather than the traditional maize (corn) or tobacco. This includes the planting of up to 70 trees on each farmer's land.  Each group of 8-12 farmers receive $10 a month for a year plus $20 worth of seeds and farm implements.  So about $14 will thus help keep a farm family on their land for a year and enable them to grow soybeans and plant tree saplings such as Moringa, whose fruits are very high in nutritional value. Guava trees are also planted as a source of food and income. Finally Acacia trees are planted as well; these act as windbreaks to reduce topsoil loss while helping to provide shade. The recipients understand that they will receive this benefit only for the year, but it is our hope that the changes both in nutrition and income source are permanent.
Accomplishments
2017: Through Land Lease we have helped 75 poor farm families (approximately 525 people) to stay on their land despite a terrible drought induced famine while helping them actually improve their nutritional status and economic well being. We have also planted 6500 saplings.
Achievements as of Feb 2020
4200 (640 farm families) have benefited from our program, and over 80% have been able to buy their own land as a result.  More than 94% have graduated from the program because they don't need our assistance anymore.
Achievements as of May 21, 2020
This year Malawi had a great year for crop production. Recently Peter Minjale  sent me pictures of Land Lease beneficiaries being given seed and  holding watermelons they grew from seed brought by us from the US (see pictures in the agriculture section).  Peter says one farmer got 9 watermelons off a single plan, averaging 12-17 kgs per melon(26- lbs).  He says that no one else is growing watermelons in the Kasungu East District besides our beneficiaries, but there is a great market and farmers can sell these for about $3-$4 apiece.  This is just one crop and one example of how we're helping these poorest of the poor farmers.